Year 1 Class - 1C - Autumn - 2017 - 2018
Welcome to Class 1C
Our class teacher is Miss Connor and our teaching assistant is Mrs Higham.
Some important things to remember in year 1:
- Our dance day is Friday
Children will need their P.E kits on these days. P.E kits should remain in school all week.
Homework will be given out on a Monday night and should be returned on a Friday. Children should try to read at home every night and always practice their spellings.
Parents: Please try to read at home with your child every night, even just for 5-10 minutes and then sign their home reading record. It really does make a massive difference to their progression in reading and all other subjects.
Home Reading in 1C
We will be doing lots of reading in Year 1, but we can always do more (plus it's fun too!)
We will earn dojo points for bringing in our home reading records and books every day. However, we also have a reward system where the children will climb up a reading tree to get to the clubhouse and earn fantastic prizes. In order to climb this tree we need to read every night for a full week to climb up one steep, but we need to remember to get our reading record signed.
The more we read, the more Dojo points we'll receive, the more prizes we'll get and the more fun we'll have!
Please practise reading and writing these common words with your child.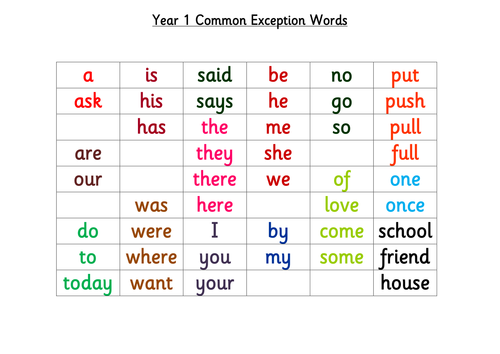 Drumming Workshop - 12.10.17
Today the children have been learning all about the 5 Senses.
We became scientists and did some exploring of the senses.
Taste - we tried 4 different food and had to describe how they tasted.
Smell - We smelt 4 different things and had to guess what they were.
Touch - we had to put our hands into a covered box and guess what was inside without looking.
See - we played a game were we had to guess what object was taken from a group.
Hear - we listened and talked about the different sounds we could hear inside and outside our classroom.
29.10.17 - Macmillan Coffee Morning
Today the children all took part in the Macmillan Coffee Morning and helped raise money for such a great charity. Thank you for all of your donations, the children all enjoyed their cakes.
A huge Thank You to all our parents, carers and family members who came to join us this morning for our class cooking morning. We all had a lovely time and made some lovely biscuits to take home. - We loved sharing this time with you all.
As part of our Geography topic we used a map of our school to search and find all of the teddy bears that had been moved from our room and hidden around the school. We became super detectives and found them all in record time.
Please come and join us on Thursday 21st September for our Year 1 cooking morning. We would love to see you!
Science - Animals including humans.
Today we started our science topic learning all about our bodies and the main body parts that we have. We can't wait to enjoy more science lessons this year.